As one of North America's leading food and beverage producers, quality and freshness are of the utmost importance. Founded over 75 years ago, this top 20 global producer has the formula for some of the world's best food and beverage products down to a fine art. However, using the best ingredients is not enough. Operational performance is always under review, and optimization and efficiency are constantly being pursued.  
The company turned to

Ekhosoft

for a digital solution that could

assist

with:
• Automating time-consuming data collection and analysis.
• Monitoring line performance in real-time to increase efficiency.
• Addressing unplanned downtime promptly.
• Supporting troubleshooting to improve equipment availability.
• Improving running rates per product to optimize production throughput and cost.
• Leveraging analytics reporting to identify and eliminate top losses efficiently.
• Reducing major losses and equipment breakdowns through detailed evaluation. 
The Need

:
Fast response times, enhanced visibility into line performance, and rapid allocation of resources to critical areas are essential when you're dealing with high-volume production and increasing product variety. The company was using another OPM software provider but still faced challenges with monitoring the production line in real-time, identifying and addressing unplanned downtime quickly, and optimizing production throughput and cost.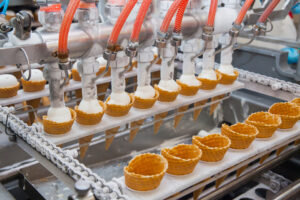 Additionally, data collection and analysis remained time-consuming and couldn't provide the customization they needed. The company also struggled to get detailed insights into losses, equipment breakdowns, and specific product performance.  
This lack of visibility made it difficult for their planning and logistics departments to make informed decisions quickly, which led to more delays and inefficiencies. Furthermore, they experienced slow communication and problem resolution with the previous software provider. 
Because of these issues, this top 20 food and beverage producer was looking for a different software vendor who could provide the trusted real-time insights, customization, and long-term support they needed. 
The

Solution:
After assessing several other OPM vendors, the company chose to implement Ekhosoft's Ekho OPM software to help them address the challenges they were facing.  
They found that Ekho OPM provided them with the fast data collection and customizable calculation processes they were looking for. Through the Production module, they were able to monitor each production line's performance in real–time, enabling them to quickly address issues and increase equipment availability, allowing for increased production volume to ensure orders are fulfilled.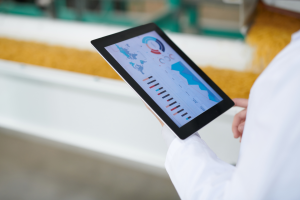 The Analytics module allowed them to generate reports that highlighted top losses, facilitating effective resource allocation. And the detailed loss tree evaluation helped reduce major losses and equipment breakdowns.  
Furthermore, Ekhosoft's customer support team proactively communicated about updates and was able to quickly respond to evolving needs by implementing improvements and new features rapidly.  
The

Outcome:
By implementing Ekho OPM software, this top North American food and beverage company experienced a boost in efficiency and performance.  
• Real-time monitoring significantly enhanced production line performance, resulting in increased production volume.  
• Detailed analysis of key performance indicators (KPIs) and performance results enabled targeted improvements and better resource allocation.
• The Plant View feature improved planning and logistics operations, enabling timely reactions and efficient material reallocation.  
• The quick response times and effective communication from Ekhosoft's support team further contributed to the company's operational excellence.  
Now, with Ekho OPM, the company looks forward to continued growth and success as they deliver on the exceptional freshness and quality they're known for.
Want to learn more about how Ekho OPM helps you enhance production line performance and keep costs down? Get a demo.